Infant Advice from a Non Expert
Having your first baby is awesome. Stressful. Yet awesome. It's so exciting for you and your partner, everybody is making sure you feel ok, have everything you need, and loves talking about how you're doing. It's great. The one thing I struggled with with B was figuring out what I would actually need so I wasn't grossly overspending and wasting my money. I only have Brooks and I'm sure other mothers with many more kids have much more expert advice. Regardless, about 3 years in and with high hopes of another baby sometime soon, I've been giving this some serious thought…
YOU WILL NEED (according to me)
A small number of cute outfits. People tell you this, but truly you don't need a lot. It actually made me so sad how little Brooks wore the clothes I really liked because I felt like he should wear everything at least once. You'll end up doing a lot of laundry anyways, so you only need like 3 outfits you LOVE and they live in onesies the rest of the time anyways. Plus, they grow fast. Like nobody has heard that before. I just bought a pack of these from Target and some comfy pants and good to go!
Pajamas…now those you need. Lots. Midnight blowouts. Midday blowouts. Pee. Spit up. Blowouts. You change jammies a lot and that is all they wear the first couple months of life. Buy a few of these in each age group and you're golden. These magnetic snap ones are MUST HAVES. You can thank me for that rec in the middle of the night. d
Diaper bag backpack. Without a doubt I would make sure I had backpack style diaper bag. The over the shoulder ones are nice, but you need both of your hands. I got gifted an expensive bucket type bag at my shower, which I loved, but through experience I realized I needed to ditch that thing for a cheaper, hands free version and have not regretted it a day since. There are TONS of options out there now so you are sure to find one that fits your style.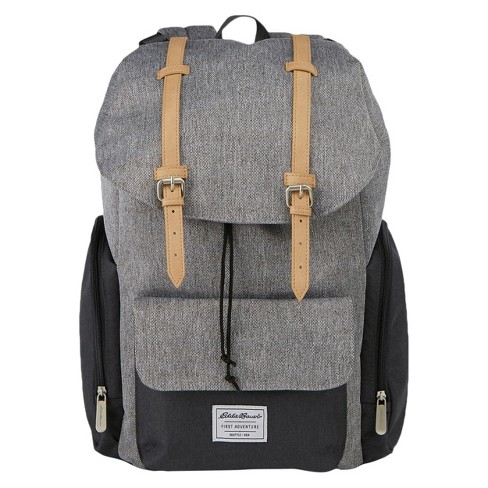 Activity saucer. Loved this. I would just carry it around room to room and B was as happy as a little psychotic jumping clam. Vacuuming, cooking, changing sheets…it kept him occupied and safe.
Activity mat. Must have again. I would actually lay right next to Brooks in this and relax, doze a little, play a little, and all were happy-including Mack.
Bumbo. I originally had this in the "probably don't need" category but when I was looking through pictures I realized I used it ALL THE TIME. Brooks liked to be wherever the action was so this was nice to help him sit up and see us. This could go both ways depending on your lifestyle.
Baby carrier. I had a Solly wrap (holy cow did I use the heck out of this thing) and the Lille baby. I used the Solly more (can't say enough good things about it) but was happy to have both options. This was a must have for me.
Suction cup bowls, plates, cups, etc. Brooks threw everything. Still does, so these were a wonderful find and are still used frequently today! The ezpz Mats are seriously life changing.
PROBABLY DON'T NEED…
Nooks. Pacifiers. Whatever you call them. I bought every type thinking there had to be one Brooks liked, he never took to it. I tried so hard, I don't know why but I did…I think I just wanted him to have something to soothe him rather than my boob. I should have just given up after Brooks didn't like the first three types I shoved in his mouth.  He only liked this one because he could play with the toy. Lots of babies love nooks and it's hard to rid them of this habit, my point is, if they don't like it don't try to force it. It caused me a lot of grief.
Multiple bottle brands. Again. I tried every type of bottle, and he liked Dr. Brown's…the first one I gave him. I just thought maybe there would be one he liked MORE. What????? Your brain does weird things when hormonal.
Special baby towels. Washcloths. Stuff. They like the stuff you already have, like the nice warm fluffy adult towels. Little hooded towels are cute (like seriously so, so cute), but not functional and your sweet little babe could give a rip.
Diaper genie. This is a hit or miss for most people, but it was more so just annoying that I had another garbage to change so I skipped it. AND our Brooks' room was on the second story so that tells you how unnecessary I found it.
Tons of toys. There are multiple articles out there outlining the importance of less toys in a child's life and the positive impact it has. I always said I wouldn't have toys sitting around everywhere and although there are many sitting around the house Brooks loves so I can't part with, for the most part if it doesn't fit in the toybox it's gone. The one thing as a little baby he loved was this toy because no matter where he grabbed he could hold it. This was a must have as an infant, forget the rest of that noisy nonsense.
As always, this is simply my advice and I am no expert. If you are going to be a new mom, hopefully this helps a bit.
Shea