Favorites Buys, Winter 2018
I have a bit of an obsession with following bloggers and instagram influencers, so I quite often find myself buying products that are recommended by them. I always think, "I hope this is worth it!" or "This better be an honest review!" until I actually receive the product and can make my own judgement. There were definitely some misses this year (I'm looking at you oversized grandma sweaters–I looked like an ogre) but there were lots of hits as well. I thought that other people might feel like I do, as I'm not compensated in any way (as other bloggers are) I think my reviews truly are honest. So…here we go, my favorite buys of winter 2018–in no specific order.
Levi's 721 High Rise Skinny Jeans. These are EVERYWHERE. I was so frustrated for awhile because every time somebody I followed linked them there wasn't a long/tall option. Frustrating for someone who is close to 5'11". Finally they became available on the Levi's site and I snagged them. Worth the hype, totally.
Adidas Swift Run Sneaker. I saw several people wearing these and since my old black Nike's literally fell apart, it was time for some new ones. I can safely say these are SO cute and INCREDIBLY comfortable. I wear them every time there is a casual day at school and I feel like I can run around and keep up with those first graders no problem.
Pilgrim Teo Essential Oil Diffuser. I actually got this from my mom and absolutely love it for our bedroom and Brooks' bedroom. It's nice and small and unlike many other diffusers, is super cute. Their customer service is also amazing! I lost the little plastic part on the top and they sent me that, plus a new ceramic top for free in like 2 days! Amazing!  PLUS, Isagenix (my favorite shake company) now sells oils so it's really a win, win situation (message me if you want details). 
Black Target booties. Another trend I've been loving is higher cut booties. I wasn't sure how I'd love them so I found some super affordable ones at Target to try it out. First of all, love it because you can tuck your jeans right in there. Second of all, no need to buy an expensive pair because the Target ones have held up great, are comfortable enough to wear at school, and hit the right price point.
Acure Facial Scrub. I actually got a sample of this from a beauty box last year and since then have been obsessed. I use it once a week. It actually hurts your face a little bit it exfoliates so well, like, hurts-so-good kind of hurts. Plus, it's at Target (of course) and a great price.
Spanx Faux Leather Leggings. I saw so many cute outfits that involved these leggings, when I got a gift card from my mom to Nordstrom I knew it was my time to splurge. Let me tell you…GET THEM. Go now, get them. They are seriously awesome. There is a reason everybody and their mother has these leggings. They suck you in real tight up top, they go with everything, and the extra sheen (they really don't look like leather, so don't let that scare you) gives them something special. Next gift card, I am totally getting another color. Maybe the camo?
AE Cloudspun Sweater. If I would have known how much wear I would get out of this sweater, I would have gotten three more colors-I still might. True to its name, it is so soft. It has the perfect oversized fit (I went a size down) and looks great dressed up or down. I have the mustard color but am eyeing up the red one next…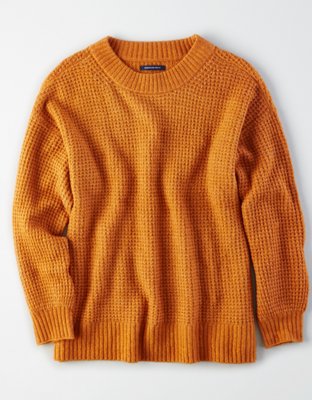 AE Soft & Sexy Plush Shift Dress. This dress is so soft, great to wear casually or good for school. It isn't too short, even on me, and is so comfortable. This is another one you could truly have in a couple of different colors and be happy to rotate them each week.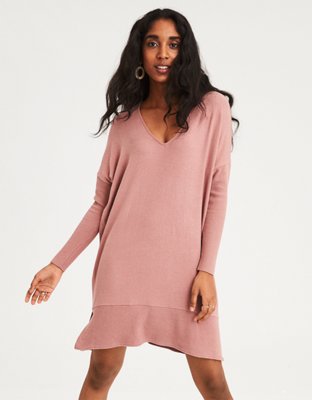 Thayers Witch Hazel Toner. This stuff is a game changer. My skin is so dry in the winter, and very prone to breakouts. This stuff does not dry out your skin (there is no alcohol in it) and has really evened me out and prevented breakouts. Seriously, I can't remember the last time I had a breakout. Plus, you can't beat the price. I like the Rose Petal but they have tons of other great scents as well.
Cravings: Hungry for More by Chrissy Teigen. This was actually gifted to me and makes me so very happy. My sister and I have plans to cook every single recipe, sometimes together, sometimes apart. We loved her first cookbook so naturally had to have this one. Great stuff in here.
Sonia Kashuk Beauty blender. If you're late to the beauty blender party, like I was, buy this one. It really does make a difference, especially for someone like me who hates anyone and anything touching their face. This one is nice and big so it gets the job done, plus with a two pack one can be getting cleaned while you use the other!
Coty Airspun Loose Face Powder. I was not a setting powder type of gal, until I had to start using under eye concealer! Hello motherhood. I realized this was a necessity as my concealer would get caked in these tiny lines I have under my eyes. This stuff is magnificent. It works SO well and is an amazing price point compared to most setting powders. There is also a ton of it so I feel like I will never run out. I will say it does not have my favorite smell, it's like floral or something, but that doesn't deter me because it sets so well. I use the aforementioned beauty blender to apply it, magic I tell ya. The packaging is weird, not my fave, but who really cares about that?
12 will have to be my magic number or I'll go on forever. If you're like me and don't trust every product recommended to you, I hope this helps!
Shea